Free yourself from stock management drudgery by ordering whitening kits from your lab along with your patient's bleaching trays.
Your patients will be looking for a little pick me up to see them through Autumn and the new improved Saber White tooth whitening kit is just what they need.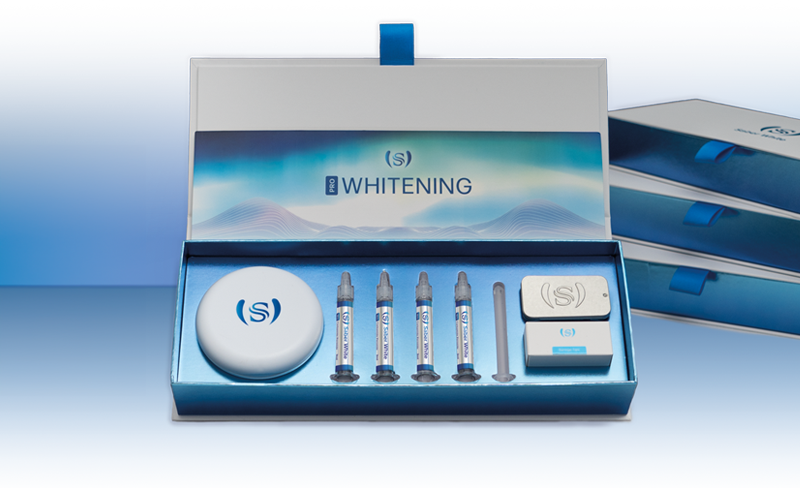 Premium Patient Experience
Delivered in a sleek, premium presentation box, Saber White uses a 16% Carbamide Peroxide gel for fast results every time. The gel is delivered via custom bleaching trays with results typically visible from the first use and rapidly improving with successive applications. Each kit comes with 4x 3ml syringes, enough to fully whiten even severely stained teeth.
Enhanced Whitening Results
For enhanced results, after each whitening session patients are recommended to chew one of the provided Recovery Tablets. These release a fluoride and hydroxyapatite foam which remineralises the teeth, promoting good oral health while rinsing away residual gel. The tablets are a unique way for patients to freshen up after whitening without risking sensitivity from a cold water rinse or abrasive brushing on freshly whitened teeth.
Available from Your Lab
We keep fresh stock of Saber White so you don't have to. Instead of managing your own stock and having to ensure everything is stored correctly, leave it to us and order your whitening kit to arrive along with the patient's completed bleaching trays. We offer Saber White and bleaching trays in a combined package deal, netting you a discount and leaving your practice fridge space free for milk and packed lunches!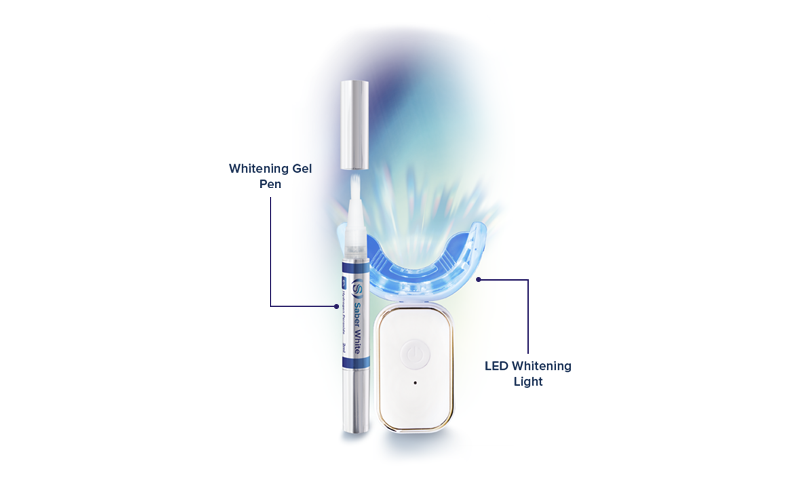 Boost Your Whitening
Saber Boost is a trayless whitening package which gives extra sparkle to teeth in 10-minute bursts. Using a brush-on 6% Hydrogen Peroxide gel with a powerful activator light, patients can use it to kickstart their whitening while waiting for trays to be made or as a standalone treatment if they just want a little confidence boost but don't have time to complete a tray-loaded treatment session.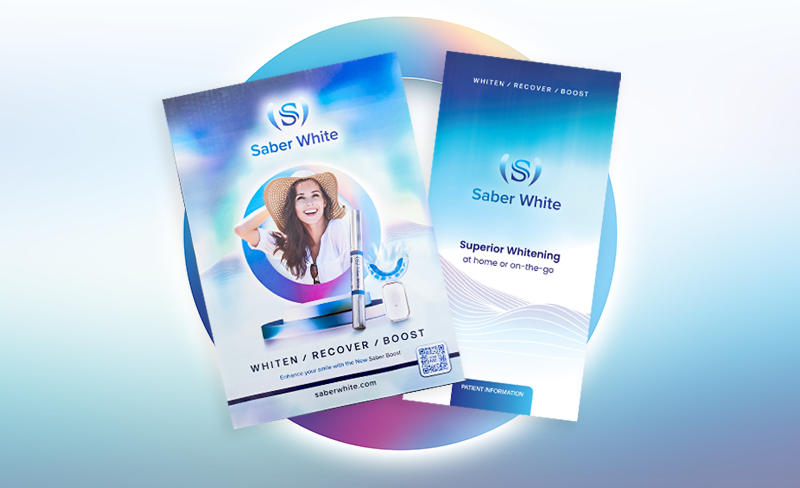 Free Patient Information Materials
We provide tooth whitening patient information posters, leaflets and leaflet stands free of charge to all of our clients. These materials include quick answers to the most frequently asked questions and are great for driving patient interest in whitening treatments. If you'd like us to send you some patient information material, just drop us an email with your practice address details to [email protected] or give us a call. Our phoneline is open from 9am-12noon Monday to Friday on 01474 320 076.