Opening Hours
Mon – Fri: 8am – 5pm
Sat – Sun: Closed
Request Collection
If you're in our collection area get in touch and we'll get back to you with availability.

Request Starter Pack
Please let us know where you would like us to send your starter pack.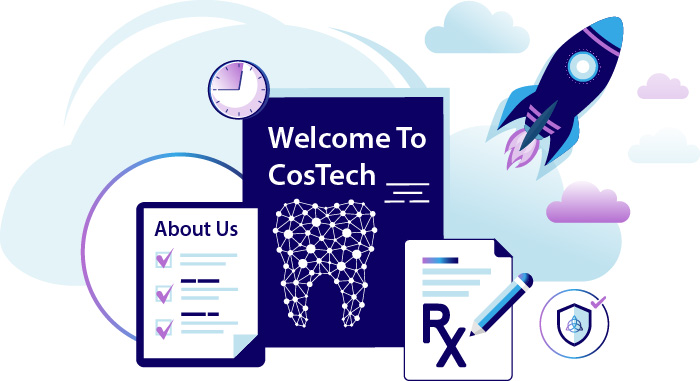 Frequently Asked Questions
FAQ's
What services do you offer?
As a full service lab, we offer Crown & Bridge, Dentures, Implants and Laminates working from both traditional and scanned impressions.
How quickly can I have my work back?
As standard we ask for 8 days in lab on Crown & Bridge, 5 days for Laminates and 4 days for acrylic denture stages. On request we can usually shorten these timescales for urgent or priority cases.
What is the CosTech Portal?
The portal is an online dashboard where dentists can review their account history, track cases, deal with case queries, etc… Access can also be given to Practice Managers and the wider team if required. New features are added regularly and this is a free service for our clients. You can join here.
Do you deliver in my area or can I send by post?
Our drivers collect and deliver around the South-East, click through for a map and postcode list.
If you're outside our collection area, you can send cases using our pre-paid postage labels.
Do you work with large/group practices?
We are proud to work with practices of all sizes. Our team composition allows us to work effectively with large groups like BUPA, MyDentist and Clyde Munro as well as boutique single-chair practices. If you are a group with a single point of billing, please email our accounts team so they can manage your invoices appropriately via [email protected].
Can I send in pictures for shade match or aesthetic reasons?
Yes! Send your pictures in to [email protected] along with the case details and we'll get them logged against the case notes for your technician to review.
What certification do you hold?
As well as being registered with the MHRA, all of our technicians are GDC registered. We have also been DAMAS accredited since 2011 and have an external auditor visit the premises every year for an inspection. GDC numbers and certificate copies are available upon request.
What makes CosTech different to other laboratories?
Within each department, we have separate technicians for NHS and Private work and they only work on their given case type. NHS technicians focus on producing a high volume of quality work in a short space of time, while Private technicians can allocate more time per case to perfect the details for a more natural finish.
Dedicating separate technicians for these standards means each case is handled by a specialist in their field, ensuring excellent results for patient and dentist.
What if you're unhappy with a case?
In the event of a case remake, CosTech's immediate priority is to find a suitable resolution for both patient and practice. Any unsatisfactory cases are reviewed by senior management so we can have them resolved urgently. These case reports are also handed to our directors and externally audited so we can avoid repeating any mistakes in future.
If you have a question we haven't answered please get in touch