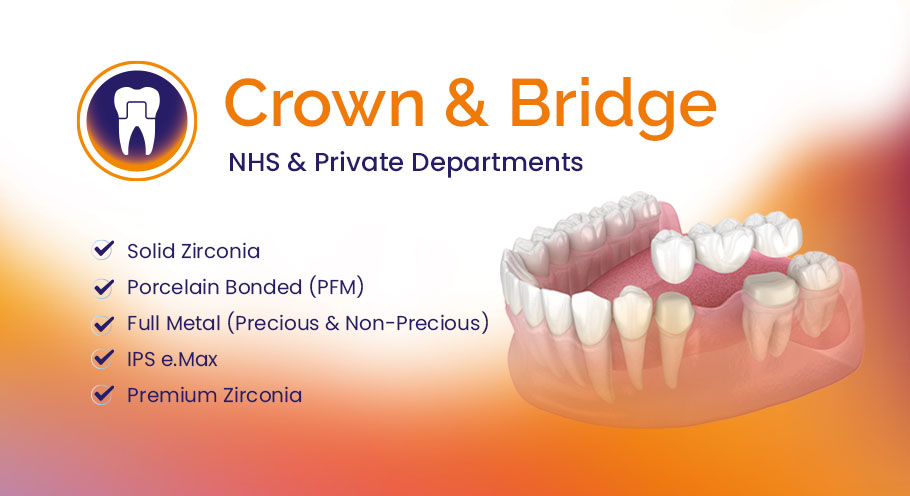 Crown & Bridge
Restorative solutions to suit NHS & Private patients
Whether it's a routine crown fit or a tricky makeover, our team have the technology and skills to achieve consistent results for your patients.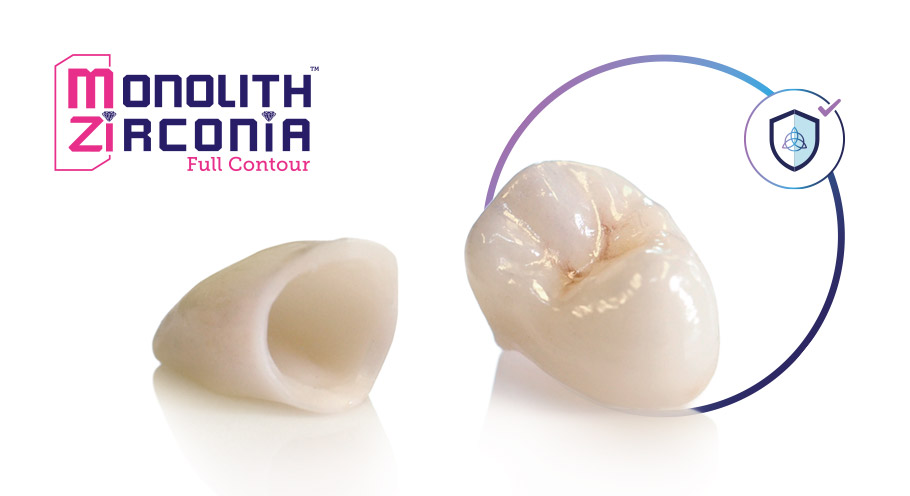 Monolith Zirconia
Best Choice for NHS Crowns
Monolith Full-Contour Zirconia offers a natural-looking aesthetic white crown and is available in all VITA shades from A-D. Professionals have rated the aesthetics of the product as 4.6 out of 5 on average, which demonstrates the versatility of the material to work in a broad range of aesthetic challenges.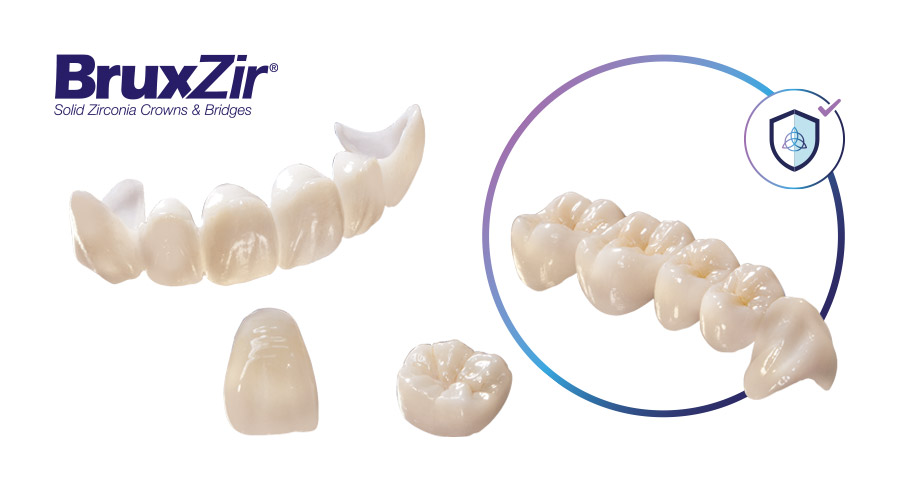 BruxZir
Private Strong Zirconia
This minimally invasive, cost effective against gold, works with any preparation and is ultimately strong. BruxZir is the world's number one brand in solid zirconia restorations. Made from virtually unbreakable, biocompatible medical-grade zirconia – the same element used to make bulletproof military armour.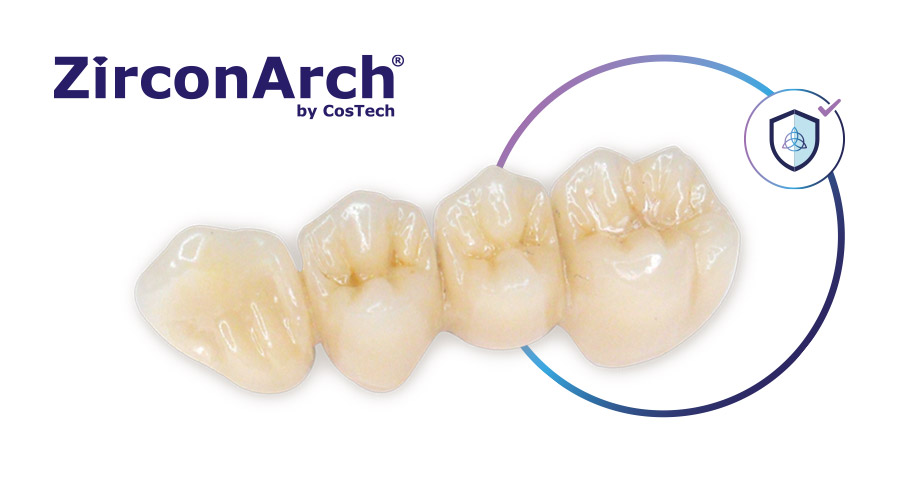 ZirconArch
Zirconia with Porcelain Overlay
ZirconArch is aesthetics and strength coexisting in harmony without metal that can mar the beauty of a crown or a bridge. We only use superior quality Zirconia blocks with our in-house CAD-CAM systems. The milled restoration is sintered before being overlaid with e.max porcelain for excellent natural aesthetics.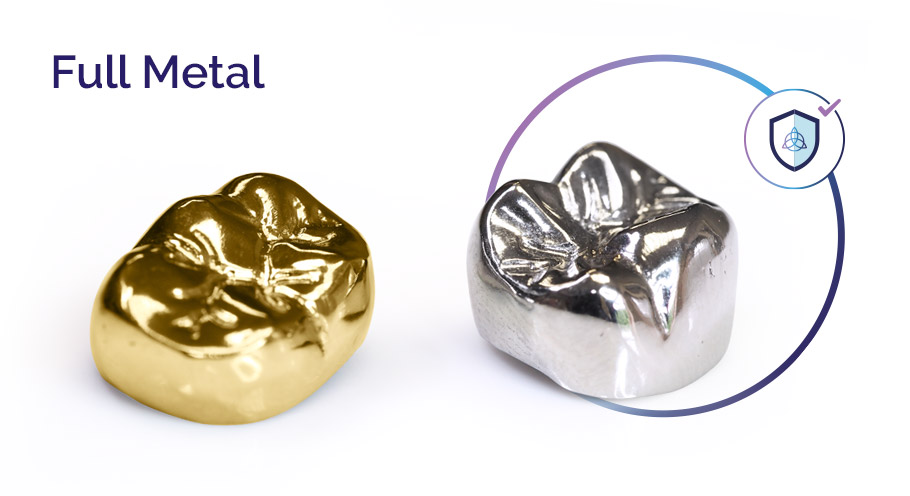 Full Metal
Nickel-Free Restorations
Our full metal crowns are available in various precious and non precious alloys. Suited to out of sight posterior crowns and bridges. Available In: White non-precious (CoCr, Nickel-free), White semi-precious (Ag-Pd), 40% Gold Yellow (40% Au) and 60% Gold Yellow (60% Au).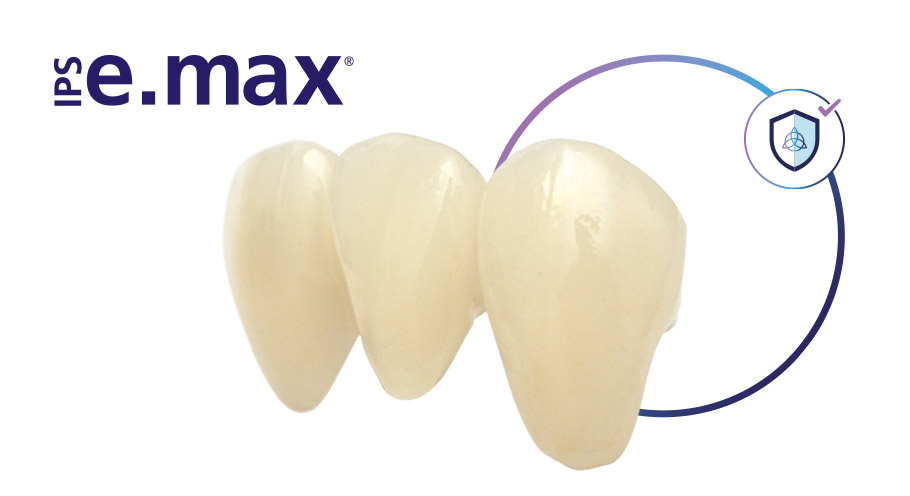 IPS e.max
Beautiful Aesthetics
IPS e.max Press lithium disilicate glass-ceramic (LS2) provides an accuracy of fit, function, and aesthetics while simultaneously featuring a strength of 400 MPa. The result is a lifelike aesthetic appearance irrespective of the shade of preparation.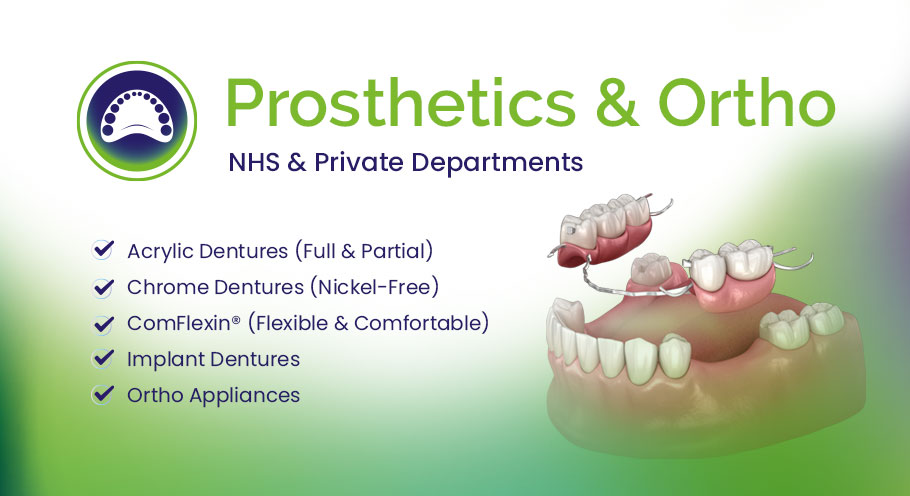 Prosthetics
Pairing patient comfort with discreet aesthetics
All of our dentures are fitted down to models upon finishing so you can have confidence in their fit and functionality for your patient.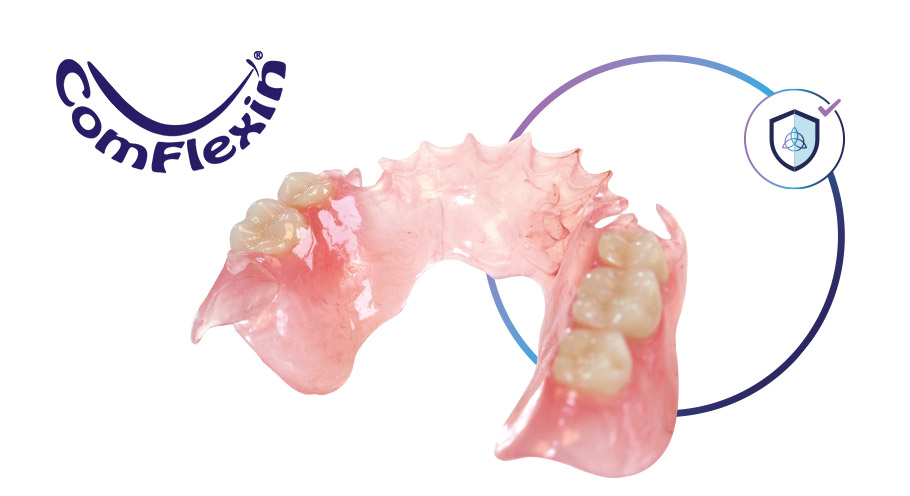 ComFlexin
Beautiful, Comfortable & Flexible
This flexibility allows the partial denture to go places a standard acrylic denture cannot. It uses these 'spaces' to 'softly grip' and secure itself to prevent movement during eating. The nylon based material will bend and flex with the contours of the teeth and eating motions making the ComFlexin denture the most comfortable denture available.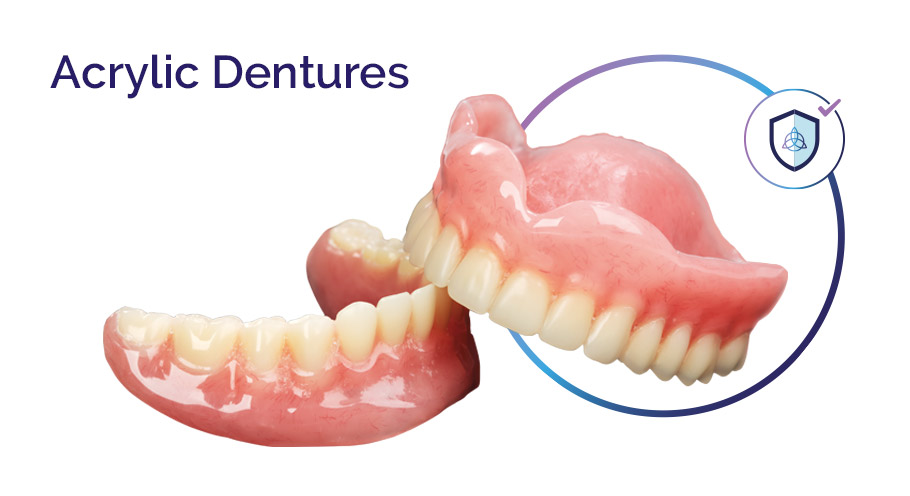 Acrylic Dentures
Most Popular NHS Choice
It is the slight twist, skew or rotation that makes anything look natural. The importance of golden proportions in design is taken seriously by our skilled technicians. With the combination of superior materials and expert knowledge of our technicians we create the most natural looking dentures for your patients.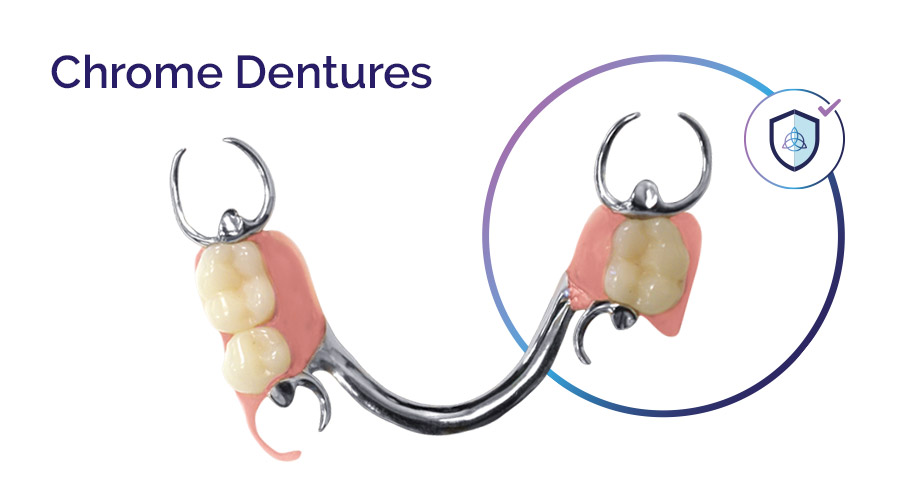 Chrome Dentures
For extra strength and durability
These are great for stability and strength allowing the patient to feel more confident with wearing their dentures. Chrome dentures are generally more hygienic than acrylic dentures, reducing deterioration through food accumulation and plaque build-up.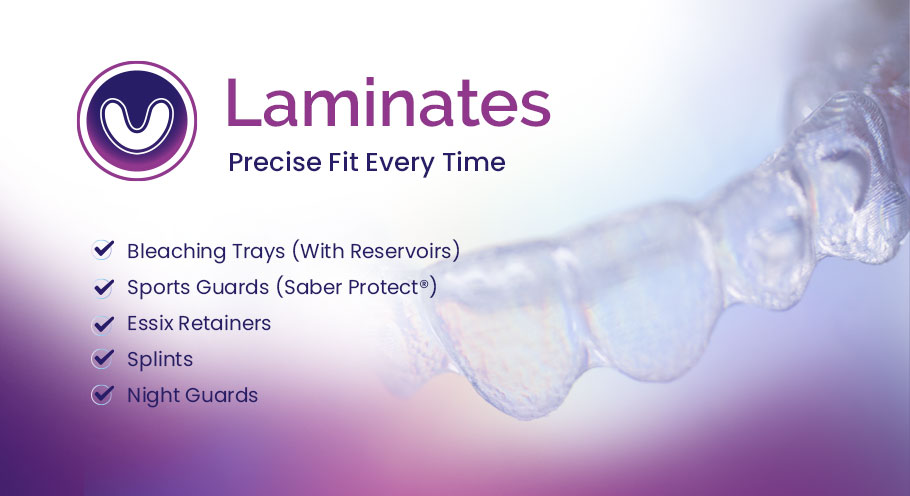 Laminates
A Custom Precise Fit Every Time
We combine thermo and pressure forming to ensure a snug fit, with further options available for exceptional cases.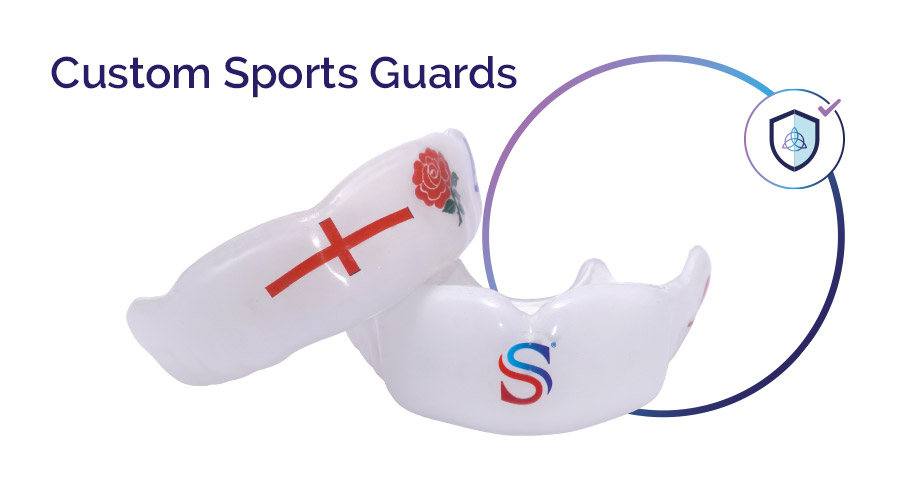 Saber Protect Sports Guards
Maximum protection for every sport, level & age
Dentists have a responsibility to prescribe the correct impact level mouth guard for their patients, and Saber Protect system allows dentists to do exactly that.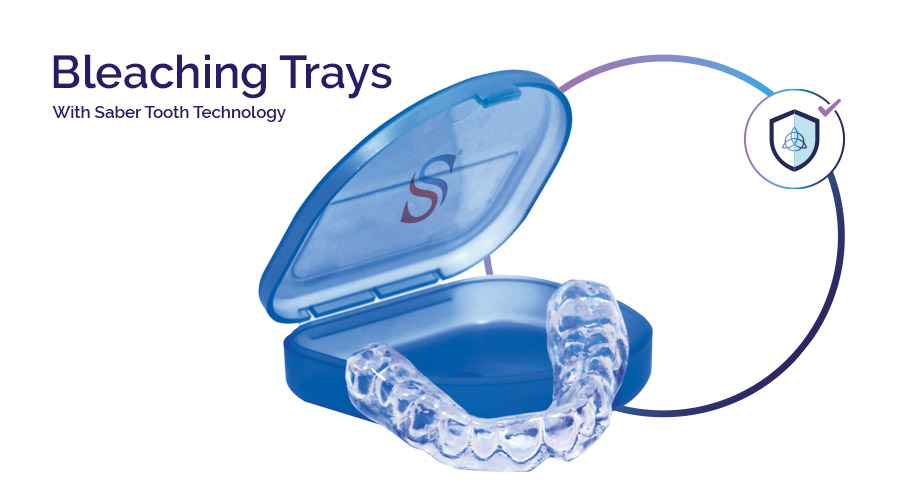 Bleaching Trays
With Saber Tooth Technology
Our custom made bleacing trays are extremely thin and we use Saber Tooth Technology which ensures a precise fit. The bleaching gel is exposed directly to the teeth avoiding leakage onto gums, reducing irritation.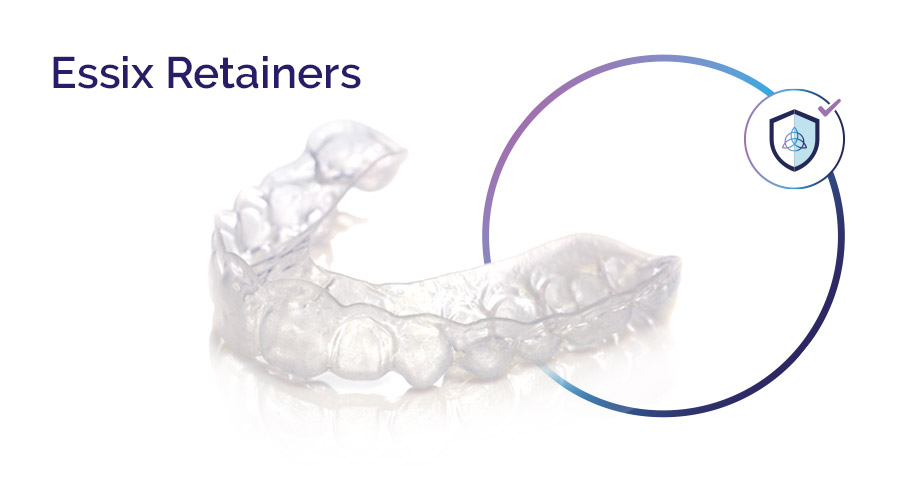 Essix Retainers
For post orthodontic treatment
Essix retainers are usually the choice of patients who do not want a visible retainer over their teeth. Created using the highest quality clear pressure-formed plastic material.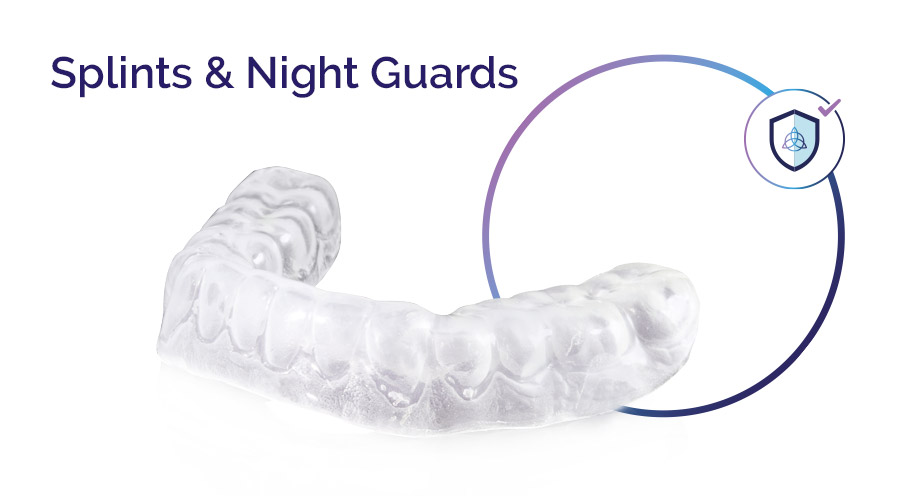 Splints & Night Guards
For bruxism & TMJ disorders
Our custom made splints and nightguards are designed to re-align, manipulate growth structure and prevent damage.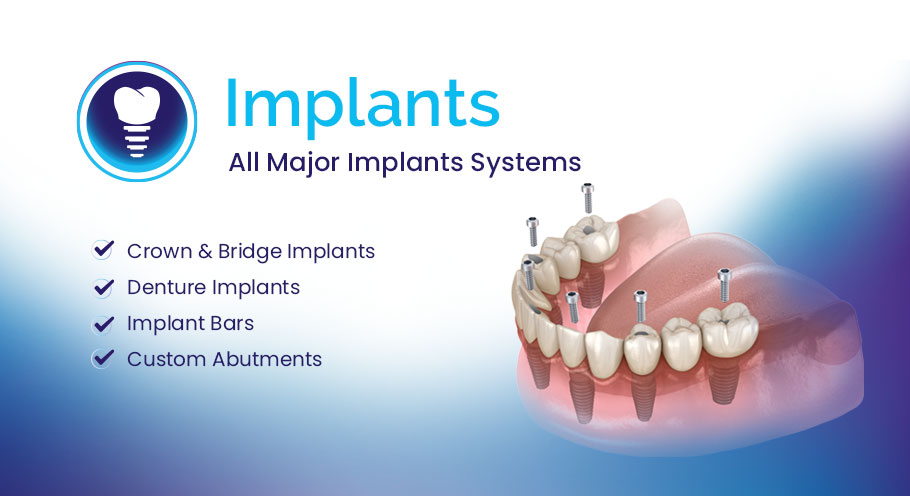 Implants
Working with all major implant brands
From case planning through to production and any adjustments, your case will be overseen by one technician from start to finish.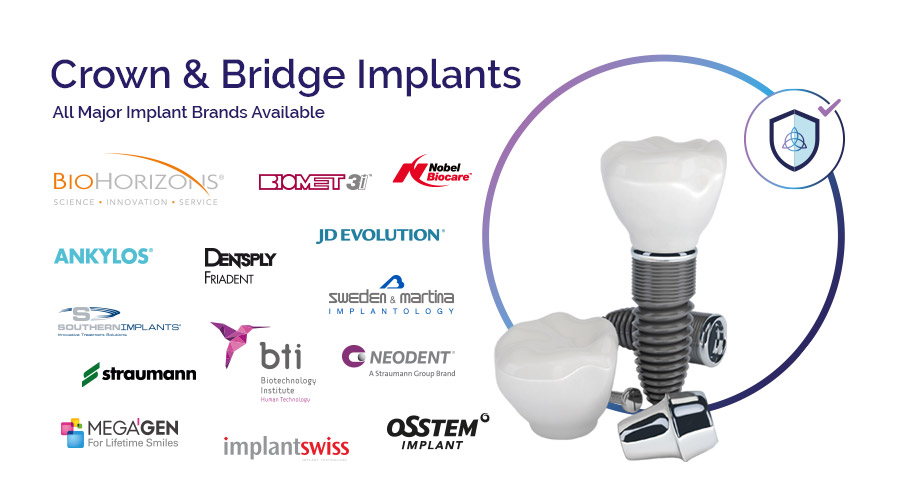 Crown & Bridge Implants
Available with customised abutments
We have dedicated technicians specialising in crown & bridge implants. We also work with any implant system, so if you work with a particular brand please get in touch for further information.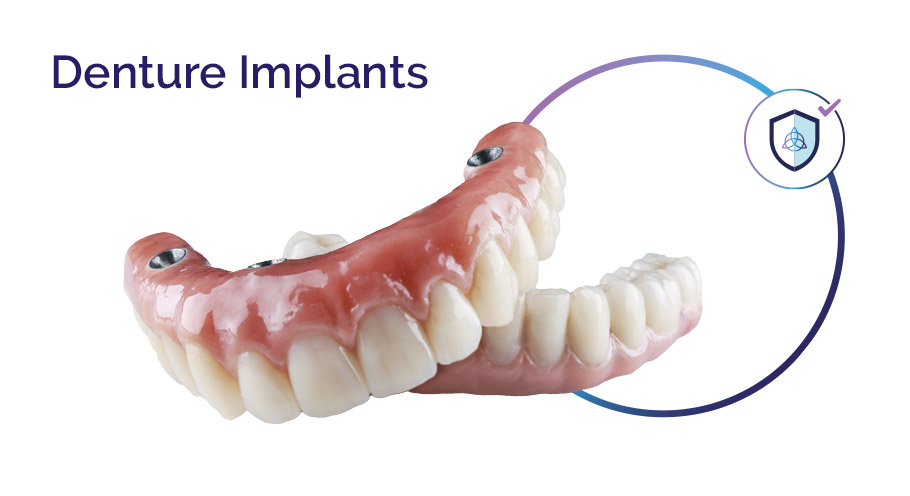 Denture Implants
For durability and longer term results
We offer Ball Retained and Bar Retained implant dentures. Our technicians happily work with all implant systems, so please call us if you have a particular system you wish to order. Discuss your case plan and options today.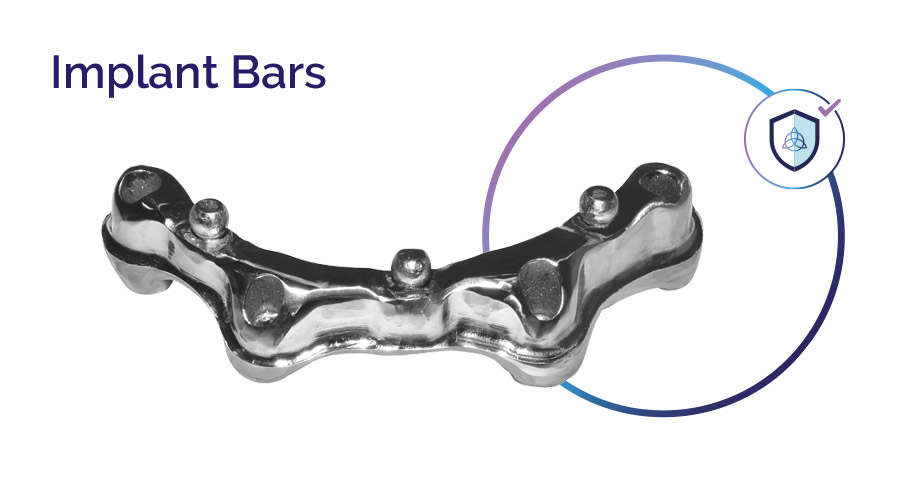 Implant Bars
Custom milled implant bars
Using state-of-the-art CAD-CAM milling machines, we are able to produce custom implant bars. Please call us and speak with one of our Implant specialists to discuss your requirements.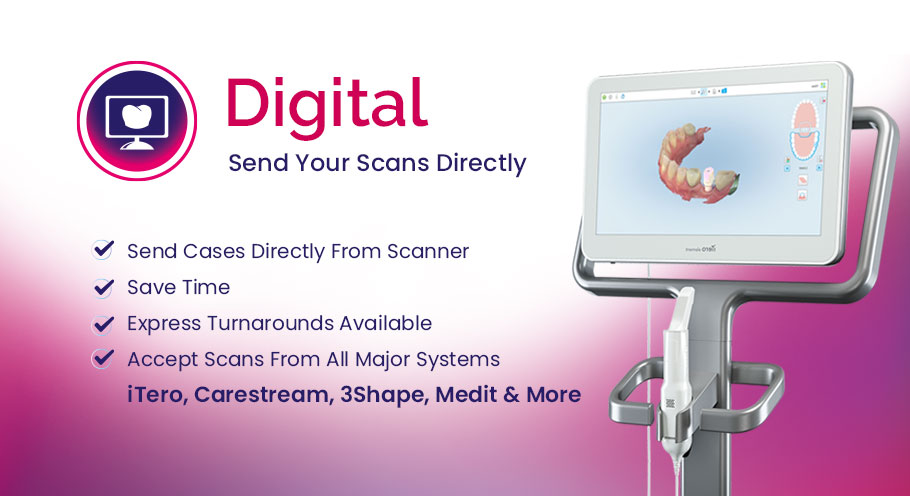 Digital
Send Your Scans Directly
With our state-of-the-art CAD-Cam and 3D printing facilities, our digital department is growing fast with increasing demand. Sending intra-oral scans direct to us will help speed up your case turnaround times.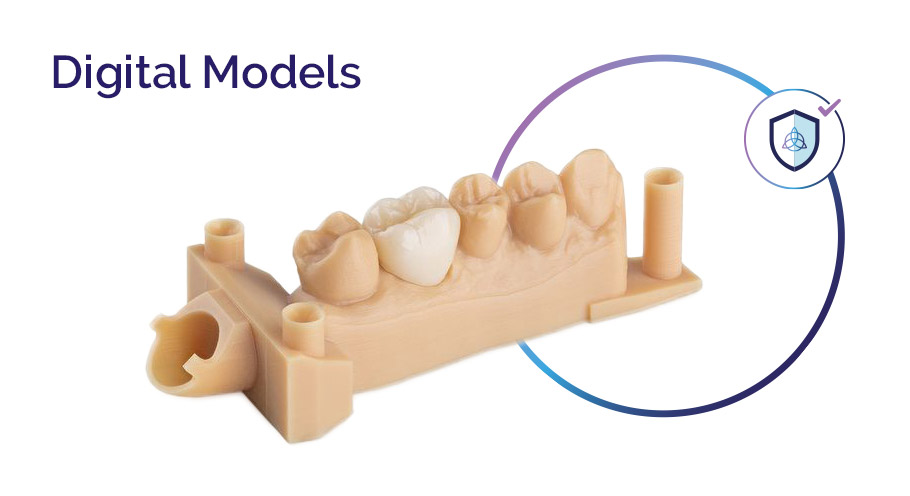 Digital Crown & Bridge
Send Your Scans Directly From Your Scanner
We provide free digital inspection models for most restorations, however, full/half arch digital models are required for some restorations at an extra charge. We use state-of-the-art digital printers for accuracy.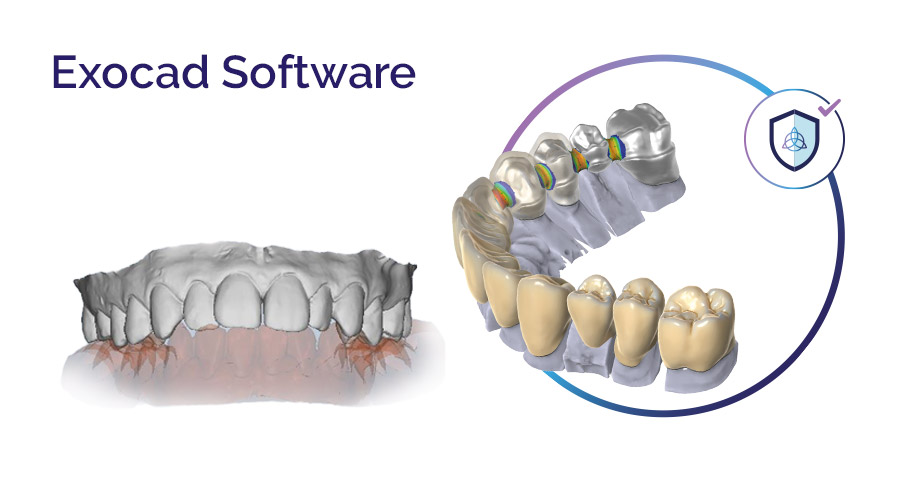 Exocad Software
State-of-the-art Technology
We use DentalCAD software by exocad for designing, implant planning and scanning. Exocad is reliable and robust when dealing with the most complex cases. find our more about exocad at exocad.com
For next day delivery we must have your intra-oral scan files in our lab before 11am.