Can you spot the Zirconia types? (Answers at the bottom of the page)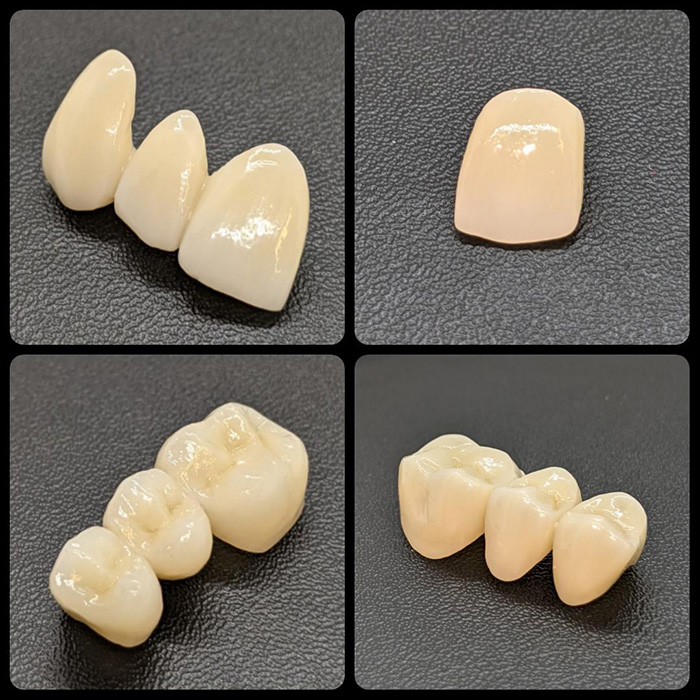 In the past few years, Zirconia-based restorations have gone from being a specialist Private material to forming a huge part of our daily Crown & Bridge output across both NHS & Private departments. The reason for Zirconia's success is that manufacturers can tweak it to suit different indications without losing the core attributes of strength, aesthetics and economic viability.
Rather than working with a single Zirconia and trying to shoehorn it into every role, we've leaned into the flexibility of the material so we can offer a range of zirconia types to suit your specific needs. Here's a breakdown of our Zirconia-based options and when to use them:
1. Monolith – NHS Full Contour Zirconia
Launched for the NHS market in 2018, Monolith is a full contour 3Y Zirconia milled from first-generation zirconia pucks. Being a first-gen material, Monolith is comparable in strength to BruxZir and while its simple block-shading falls short of the aesthetic requirement for Private work, it's more than adequate for NHS restorations.
When to use Monolith
Monolith is indicated for crowns or 2–3-unit bridges and is available in block shades A-D.
2. BruxZir – Our Strongest Zirconia
Designed for patients suffering from bruxism, BruxZir is a 3Y full contour zirconia and it remains the go-to Private material where strength is of the utmost concern. While our technicians can apply some characterisation to BruxZir, we still recommend reserving it for posterior restorations where it can more easily blend in with natural dentition.
When to use BruxZir
BruxZir is indicated for Crowns or Bridges ranging from 2-16 units. Originally only available in A-D, we can now produce BruxZir in Bleach shades where required.
3. Uni-Zirc – Aesthetic Full Contour Zirconia
Uni-Zirc is the newest part of our range. Being a 4Y full contour zirconia it's slightly less strong than BruxZir but it has actual graduated translucency built into its puck which combines with staining options to make it suitable even for anterior private cases. Where neither bruxism nor excessive characterisation are concerned, Uni-Zirc is our default recommendation for Private Crown & Bridge.
When to use Uni-Zirc
Uni-Zirc is indicated for aesthetic Crowns or Bridges ranging from 2-16 units and is available in the full range of shades with extensive staining options.
4. ZirconArch – BruxZir with E.max Overlay
We developed ZirconArch for aesthetically demanding cases where full contour E.max was not an option, e.g. large span or Maryland bridges. The underlying BruxZir frame creates a strong metal-free platform suitable for bridges or even wings. Our ceramists can then layer E.max porcelain on top using the full range of characterisation methods available for a truly lifelike finish.
When to use ZirconArch
ZirconArch offers all of the shading and customisation of E.max with the underlying strength of BruxZir making it suitable for single units, Marylands or even full-arch bridges.
Any questions? Speak to our Digital Team
It has become increasingly obvious over the past few years that Zirconia cannot fairly be seen as a single material anymore. Instead, it's a range of products that meet dental requirements for strength, aesthetics and cost to varying degrees. The fact that it dovetails neatly with the rapid rise in intraoral scanning suggests it's only going to get more popular from here, which is good because our technicians love working with it!
If you have a query for our team regarding Zirconia or our CAD/CAM workflow, you can catch us in person on Stand F10 at the upcoming Dentistry Show or just drop us an email on [email protected].